Pre-Order The Electric 2022 BMW i4 & iX

Our Next Generation Electric Vehicles. Learn more and Pre-Order today!
Explore the Electric Vehicle Lineup at BMW of South Austin
At BMW of South Austin, we provide our customers with a wide variety of luxurious, high-performance vehicles of many different body styles. From large SUVs to compact sedans, you can get the kind of driving experience you want when you shop at BMW of South Austin. We are excited to introduce BMW's new electric vehicles: the BMW i4 and the BMW iX.
You may be thinking: what can an electric vehicle do for me? Owning an electric vehicle can be incredibly beneficial, especially in the Austin area. With an electric BMW vehicle, you will no longer have to stop at the gas station to fuel up; instead, you can recharge your vehicle at home or at one of the thousands of public charging stations across the country. It's just like charging your smartphone! All you need to do is plug in your all-electric BMW sedan or SUV and you can have hundreds of miles of driving in just a few hours.
---
New BMW i4
Hitting the streets of Austin will feel amazing when you're behind the wheel of the new BMW i4. The BMW i4 takes inspiration from the popular BMW 4 series, a luxurious sedan that boasts incredible performance, style, and tech. Take control of the new BMW i4 M50 to enjoy a maximum 536 horsepower, allowing you to hit 60 miles per hour in a lightning-quick 3.7 seconds. When it comes time to charge this all-electric sedan, you can have a full charge in about eight hours with AC charging.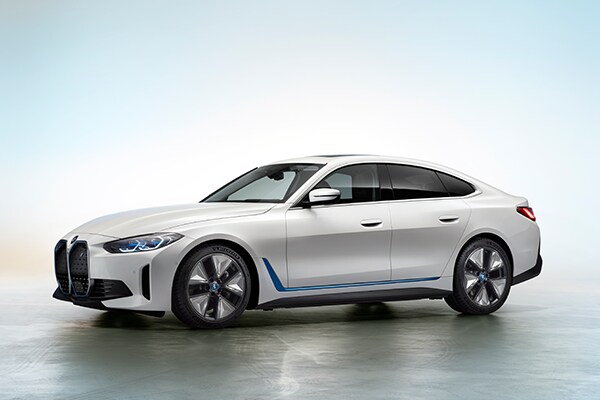 New BMW iX
Want fantastic electric performance but with more room for your family and cargo? The new BMW iX is here to answer the call. The BMW iX is an all-electric Sports Activity Vehicle (SAV) that's equipped to power your adventures with dual electric motors and a battery capacity of up to 113 kWh. You'll love cruising around Austin or going on road trips with the new BMW iX, which boasts about 500 horsepower and an all-electric range of about 300 miles. With DC Fast Charging, you can have an electric driving range of about 75 miles in about 10 minutes.