| | |
| --- | --- |
|   | |
| BMW X7 | Mercedes-Benz GLS |
The 2020 BMW X7 Compared to the 2020 Mercedes-Benz GLS
The 2020 BMW X7 will make sure you will find a variety of the most advanced features to help you enjoy any drive that you have ahead of you. As a brand known for elegance and power, we want to give you a closer look at what the 2020 BMW X7 can do.
There are many competitors of the 2020 BMW X7, including the 2020 Mercedes-Benz GLS. There has been a long-standing competition between the two brands, and we want to help you decide which will be the one that is perfect for your needs.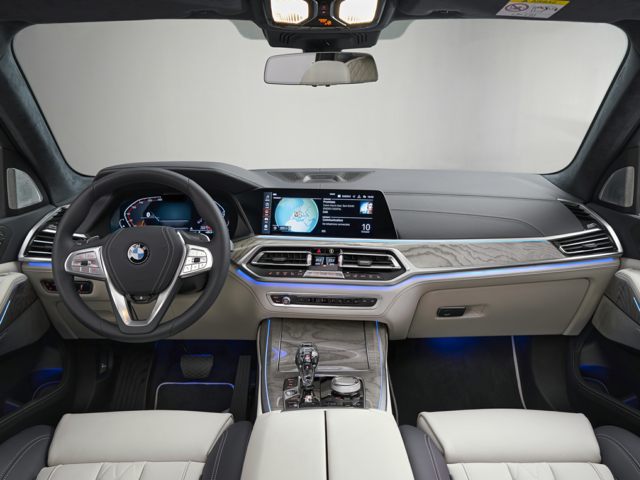 2020 BMW X7 vs 2020 Mercedes-Benz GLS
The starting price of the 2020 BMW X7 is more attractive than the 2020 Mercedes-Benz GLS.
The 12.3-inch dual-screen system will keep you connected to any of the media that you could be looking for.
Both SUVs come with a variety of standard and available driver assistance features.
You will get all-wheel drive as standard in the 2020 BMW X7 while it is only an option for the 2020 Mercedes-Benz GLS.
There is room for up to seven passengers in the BMW X7 with an option for six, and the Mercedes-Benz offers the same.
There are sleek and elegant taillights on the 2020 BMW X7 while the 2020 Mercedes-Benz GLS comes with a boxy taillight design.
Over 200 inches in length, each model has the room that everyone needs to stay comfortable.
The BMW X7 comes with its own smartphone integration while the 2020 GLS has Apple CarPlay and Android Auto.
The 2020 Mercedes-Benz GLS gives you E-Active Body Control while the 2020 BMW X7 has an eight-speed automatic transmission.
The large panoramic sunroof that is equipped on both models will give the sunlight and best view of those around you.